New Jersey Tankless Water Heater Professionals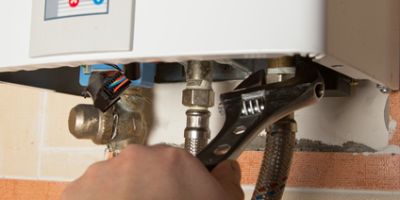 Since 1989, New Jersey Water Heaters has been the premier company to contact for your related service needs. In addition to traditional systems, we also provide service for tankless water heaters.
Some homeowners are still on the fence about whether or not this is the right system for their household. You want to be a wise and informed consumer before making a decision and here are just a few of the benefits you could be enjoying:
Above all else, people love the easy access to immediate hot water. No more waiting for it to heat up to the right temperature in order to take a shower.
This results in less wasted water and electricity, which also means lower utility costs. Plus this water-conserving and energy-efficient approach means your home will be more Eco-friendly.
No more sacrificing valuable real estate in your home for a large, bulky tank. Even if it is just space in your basement, that is still space you could be better used for storage.
When it comes to water heater repairs and other necessary services for your tankless or traditional system, you can count on us to get the job done.
If you are looking for a Water Heater specialist then please call 732-257-1699 or complete our